Thermaltake View 37 RGB Edition Mid-Tower Chassis
Thermaltake View 37 RGB Edition mid-tower chassis manifests the latest technology advancement and captivating aesthetics. Involves a gull-wing window panel to allow a view from more than just one angle; features 3 built-in addressable Riing Plus 140mm Hardware Control fans to deliver unparalleled ventilation, and up to two addressable 200mm fan installation upgrade option. With an included Riing RGB controller and PCI controller, this E-ATX tower permits more custom RGB lighting possibilities thanks to the light synchronization with enthusiasts' favorite RGB capable motherboard brands, including Asus, Gigabyte and MSI. Supporting the latest PC hardware and liquid cooling solutions has made View 37 satisfy the market where users are looking for a stylish PC chassis with advanced features and aesthetic appeal.
*The image is for reference only. Three addressable Riing Plus 140mm Hardware Control fans are included. The 200mm fans are optional.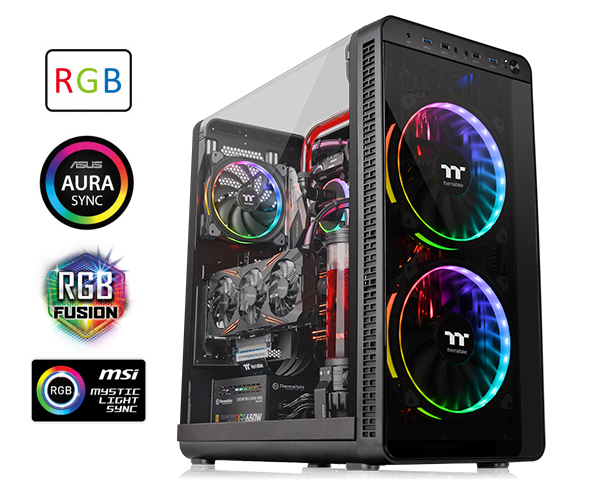 TT Premium
To continue achieving the corporate mission of delivering the perfect user experience, Thermaltake developed "TT Premium" with the essence of combining supreme quality products with a new logo design. TT Premium is far more than just a guarantee of quality. Behind the name, it represents the passion in DIY, Modding and Thermaltake's desire to be the most innovative brand in the PC hardware market. To satisfy the demand of the high-end PC users, TT Premium follows its core values of Excellent Quality, Unique Design, Diverse Combinations and Boundless Creativity to provide a high performance PC product for every enthusiast.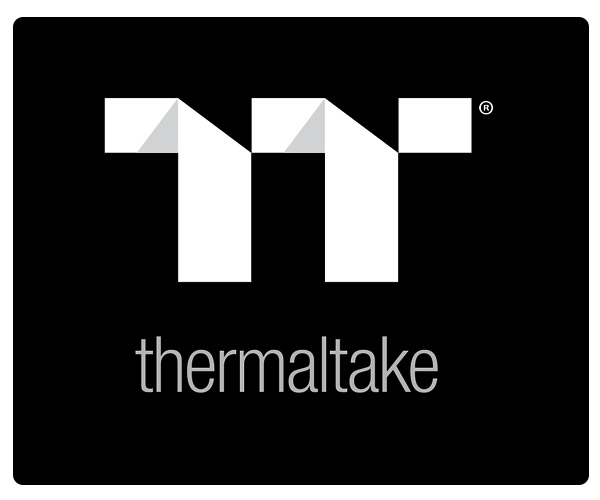 Tt LCS Certified
Tt LCS Certified is a Thermaltake exclusive certification applied to only products that pass the design and hardcore enthusiasts standards that a true LCS chassis should be held to. The Tt LCS certification was created so that we at Thermaltake can designate to all power users which chassis have been tested to be best compatible with extreme liquid cooling configurations to ensure you get the best performance from the best features and fitment.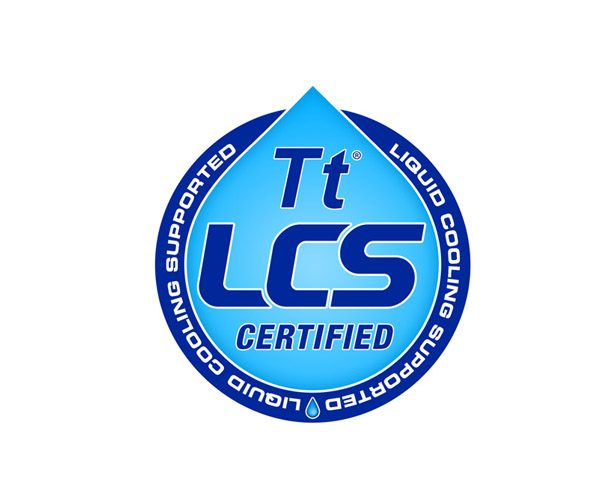 Enlarged Transparent Gull-wing Window Panel Design
Constructed with premium transparent top panel wrapping around to the side, View 37 ensures durability of the window and delivers a gorgeous view of the superb configuration inside.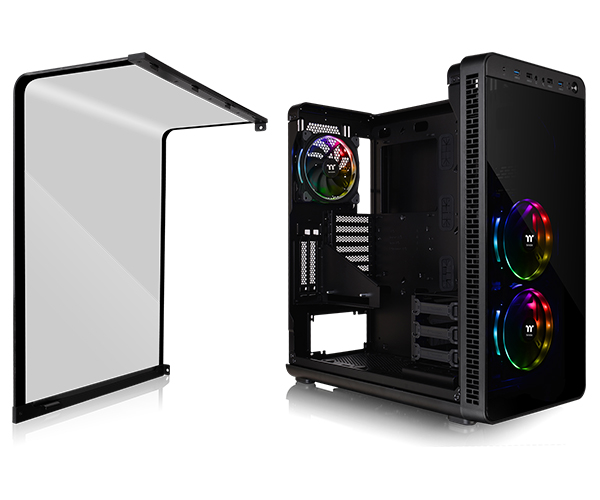 3 Built-in Patented Addressable Riing Plus 140mm Hardware Control Fans
The patented addressable Riing Plus 140mm Hardware Control fan offers high-static pressure, 12 addressable LEDs, compression blades and hydraulic bearing for a vivid illumination and ultimate thermal efficiency.
To deliver a better RGB experience, the Riing Plus 140mm Hardware Control fan is a hardware/software controllable gear that the fan speed/light mode/color mode/light speed can be customized through the included Riing RGB Controller and PCI Controller or via Asus AURA SYNC/ Gigabyte RGB Fusion/MSI Mystic Light Sync. Making the fan light match your build's style has never been so easy.

China Patent:CN204498539
Us Patent :US9,506,6

Software Controllable Lighting in Sync with Asus/Gigabyte/MSI Motherboards
Thermaltake has teamed up with enthusiasts' favorite motherboard brands, Asus/Gigabyte/MSI, to give even more illumination synchronization options. Just connect the addressable Riing Plus 140mm Hardware Control fan to the built-in Riing RGB Controller and Asus AURA SYNC/ Gigabyte RGB Fusion/MSI Mystic Light Sync-enabled motherboards for the ultimate compatibility without the need to install Riing Plus RGB software or any extra lighting controllers.
Visit the support page for motherboard information or to download the software:

Asus
Gigabyte
MSI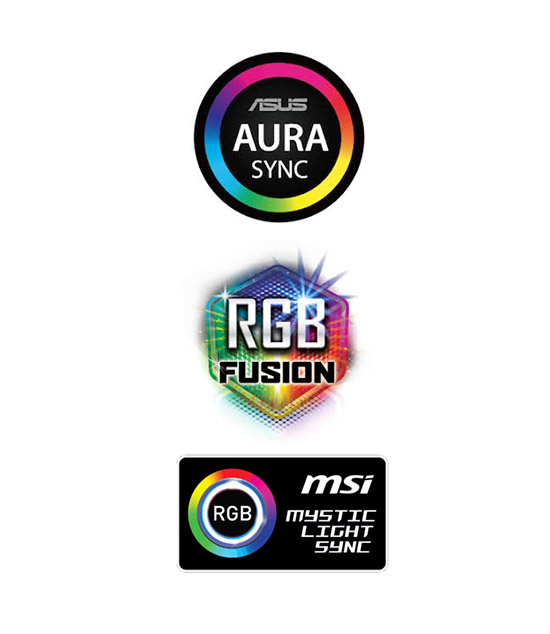 Thermaltake View37 RGB Edition Illumination in Sync with Asus AURA SYNC-enabled Motherboard Demo
RGB Motherboard Support List
View 37 RGB Edition supports lighting sync with Asus AURA SYNC/ Gigabyte RGB Fusion/MSI Mystic Light Sync-enabled motherboards with the headers shown on the left. Support list is as below: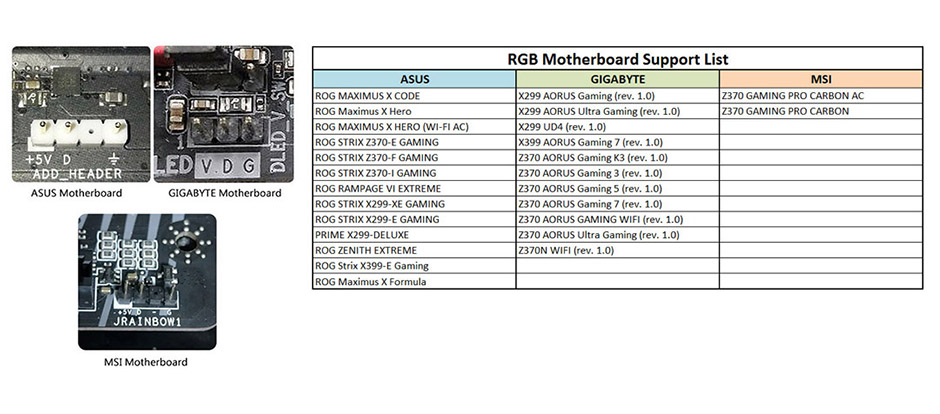 Built-in Riing Plus RGB controller
For direct control : The built-in Riing RGB Controller is a 3 port hub that offers direct fan speed/light mode/color mode/light speed control over the addressable Riing Plus 140mm Hardware Control fans. There is also a built-in memory function to save the color applied and insure the same color selection every time you boot your PC.

For use in conjunction with Asus/Gigabyte/MSI motherboard RGB software: Connect addressable Riing Plus 140mm Hardware Control fans with the Riing RGB Controller and Asus/Gigabyte/MSI motherboard RGB software to easily expand illumination synchronization options without the need to install any extra lighting controllers.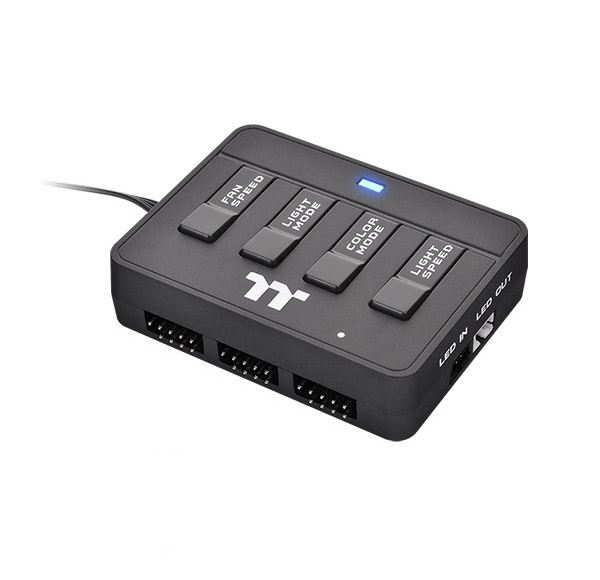 Built-in PCI Controller
Simply install the included PCI Controller on the outside of the back panel and enjoy taking full control of the fan lighting mode/speed without the need of removing the side panel. Up to 2 Riing Plus RGB controllers can be connected to the PCI Controller at the same time.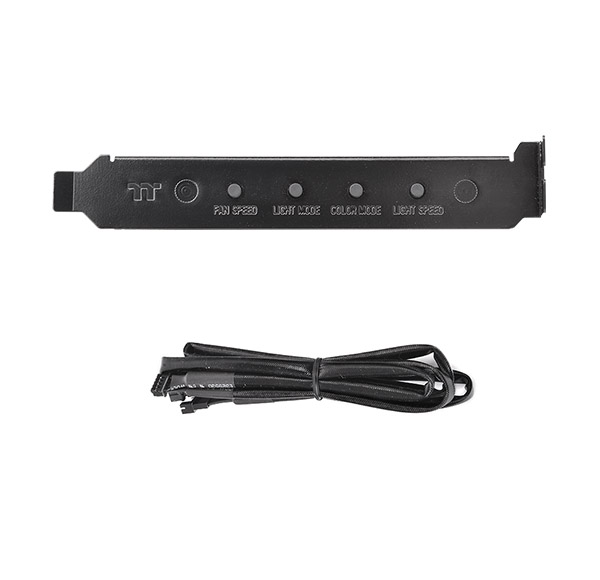 Hardware Controllable RGB Lighting
The built-in Riing RGB Controller provides RGB lighting customization. Apply the light modes to see the lighting schemes/color options that addressable Riing Plus 140mm Hardware Control fan offers.
Apply one of the present light modes that allow you to switch between different lighting schemes along with three "Color modes" (RGB, Single and Off) and four "Light Speeds" (Slow, Normal, Fast and Extreme).



Light Modes - Copy Color
Copy Color– Seamlessly transfer lighting effects of the first fan across to other fans.

Light Modes - Full Lighted
Full Lighted – A static lighting with your color choice, including RGB colors and single color.

Light Modes - Sound Control
Sound Control – Sync lights with your favorite music that is imported from your PC, and see how they react to the beat.

Light Modes - Flow
Flow – Directional RGB colored flow across the individual LED of the ring.

Light Modes - RGB Spectrum
RGB Spectrum – A seamless transition through the entire 16.8 million RGB color spectrum.

Light Modes - Ripple
Ripple – Lights ripple out across the entire fan with your choice of 16.8 million colors.

Light Modes - Blink
Blink – Lights keep flashing on and off with single color or RGB colors.

Light Modes - Pulse
Pulse – A slow fade in and fade out with your color choice.

Light Modes - Wave
Wave – A RGB wave flows across the entire fan.

Light Modes - Cross
Cross – Lights flow in opposite directions with single color or RGB colors.

Light Modes - Thermal
Make your CPU temperature visible, and track it easily. The software has a built-in temperature sensor that detects and displays changes in CPU temperature in real-time. The LED ring offers an additional visual cue. The color corresponds to the temperature, ranging from blue (CPU temperaure ≦ 40℃) to Red (CPU temperature ≧ 65℃).

Advanced Ventilation
To dissipate heat properly, View 37 RGB is preinstalled with three addressable Riing Plus H14 LED RGB Fans (two front fans and one rear fan). It enables users to build a complete high-end system with ample room for up to 8 case fans, and full compatibility with 420mm, 360mm, 280mm, 240mm, 140mm and 120mm radiators. Removable front fan filter, front panel filter and the power supply filter at the bottom provide excellent reduction against dirt and dust and gives better airflow.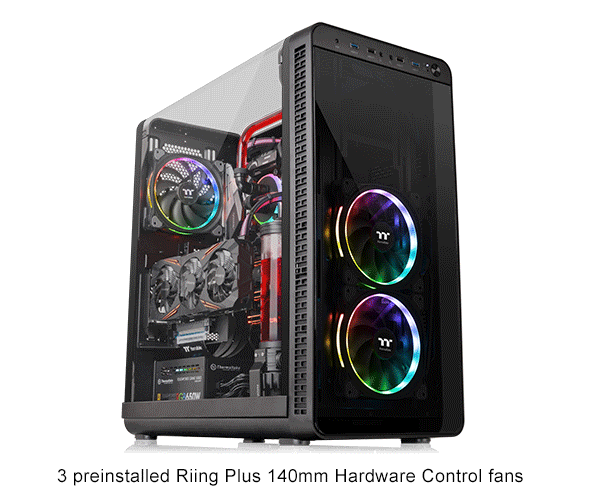 Upgrade with Up to Two 200mm Front Fans
View 37 doesn't disappoint when it comes to cooling potential and flexibility. It supports up to two 200mm front fans to guarantee high airflow and embraces the diversity of a PC case with stylish statement and options.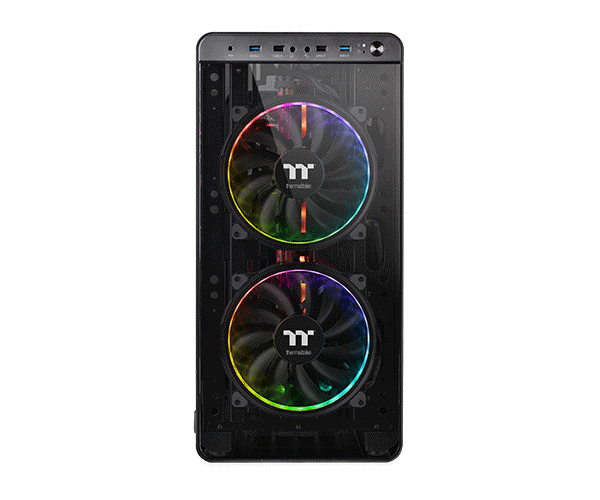 Riing Plus 20 LED RGB Case Fan TT Premium Edition
Specially made for those seeking a 200mm PWM fan with superior airflow, silent operation and customizable RGB lighting, Thermaltake Riing Plus 20 RGB features compression blades, hydraulic bearing, and a patented 16.8 million colors LED ring with 12 addressable LEDs sets. Support Thermaltake's patented TT RGB PLUS Software and AI interactive voice control, the Riing Plus 20 RGB lights up your system without sacrificing performance!
Tool-Free Installation
The fully modular tool-free drive cages to provide the ease of installation/removal and maximize the interior space for highly customizable layouts. The modular drive bay concept of "3+4" offers a good ratio for accessories and storage devices.
3.5" or 2.5" HDD Drive Compatible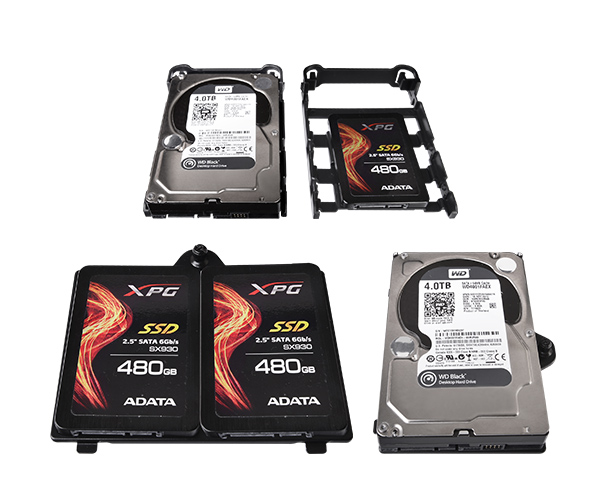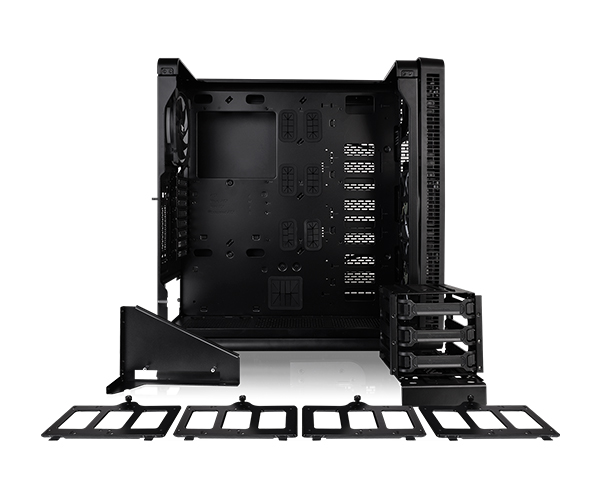 Outstanding Expandability
Guarantees outstanding hardware expandability thanks to the support for standard E-ATX form factor motherboards, a CPU cooler with maximum height 180mm, a VGA of up to 410mm in length without front fan, and a power supply with length of up to 220mm while there is still plenty room for accommodating multiple 3.5"/2.5" storage devices.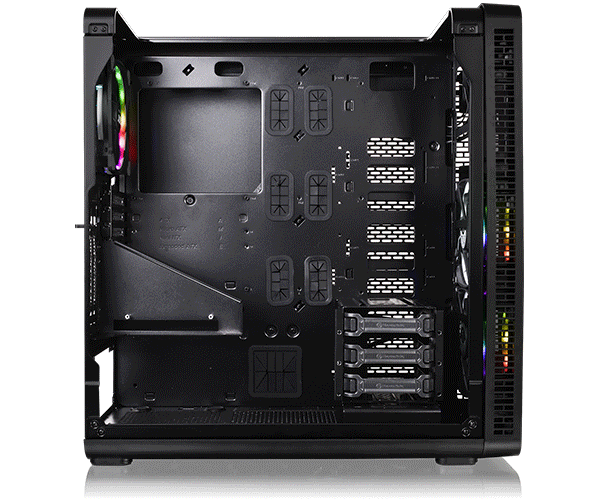 Riser GPU Support Bracket
Specially designed for dual GPU placement options, View 37 RGB Edition has the support for vertical graphic card layout with dual PCI-E slots design. Integrated riser GPU support bracket not only prevents the graphic card from sagging, but also helps to reduce the weight on the motherboard PCI-E slots.
Thermaltake TT Premium PCI-E 3.0 Extender (Optional) – Supports a wide range of GPU solutions with ultra-excellent quality. Features like, extreme high-speed cable with highly-routable design, EMI shielding with conducting polymer are crafted for meeting the most demanding system. Available in 300mm, 600mm and 1000mm length.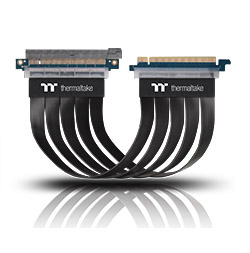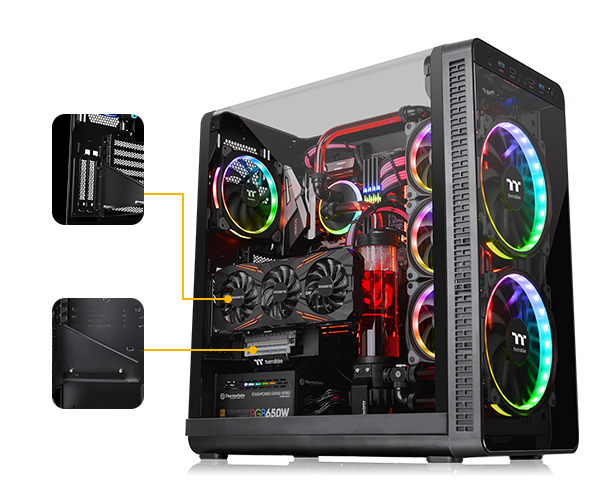 Vertical Radiator View (VRV)
Turn the tides on traditional radiator mounting and bring out the glorious view of custom loop or all-in-one radiator applications with vertical radiator viewing. Supporting proper placement for 120mm and 140mm radiator applications up to 420mm in length, gain more compatibility when pairing up both CPU and GPU cooling solutions. Take on even more with custom loop options for enthusiast grade cooling, fitment and flow.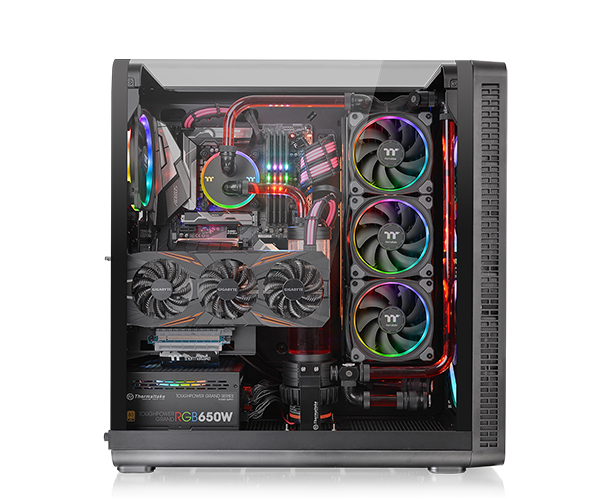 AIO/DIY Liquid Cooling Capable
View 37 RGB supports all types of advanced AIO liquid cooling solutions and has the capability to house up to one 420mm DIY liquid cooling radiator fitment, either at the front or on the right side.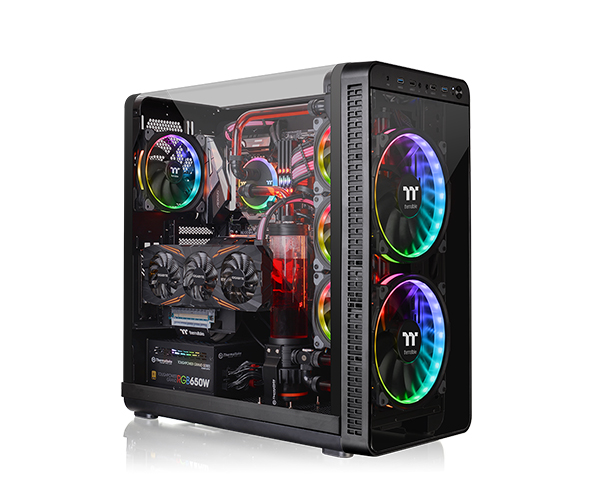 View 37 RGB Edition Radiator Supporting List
Radiator Compatibility List
120
mm
240
mm
360
mm
140
mm
280
mm
420
mm
Front

*

*

*

*

*

*

Rear

*

*

Right

*

*

*

*

*

*

Bottom
All-in-One Compatibility List
(Water 3.0 Series)
Performer
Pro
240 Series
360 Series
140 Series
280 Series
Front
Rear

*

*

*

Right

*

*

*

*

*

*

Bottom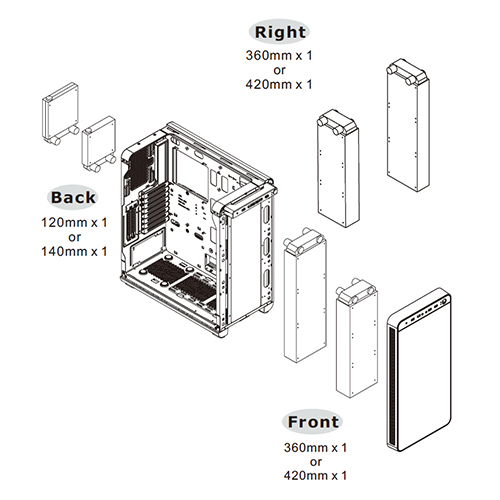 View 37 RGB Edition Fan Supporting List
Fan Compatibility List
120mm
140mm
200mm
Front
3
3
2
Rear
1
1
Right
3
3
Bottom
1
Thermaltake Compatible Fan
120mm
140mm
200mm
Pure Fan Series

*

*

*

Luna Fan Series

*

*

*

Riing Fan Series

*

*

*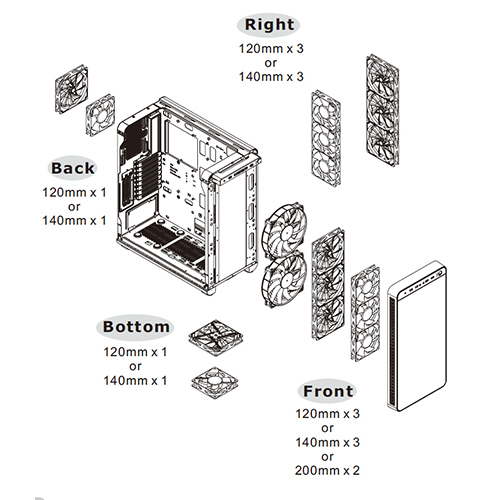 More Information
P/N
CA-1J7-00M1WN-01
Series
View
Case Type
Mid Tower
Dimension (H x W x D)
525 x 261 x 538mm
(20.6 x 10.3 x 21.2 inch)

Net Weight
12.7 kg / 28.00 lb
Side Panel
L-type transparent window
Color
Exterior & Interior : Black
Material
SPCC
Cooling System
(Analog control box and PCI-E Controller Included)
Front (Intake):
140 x 140 x 25mm Riing Plus RGB fan
(500-1400rpm, 27.2dBA) x 2
Rear (exhaust):
140 x 140 x 25 mm Riing Plus RGB fan
(500-1400rpm, 27.2dBA) x 1
(Analog control box and PCI-E Controller Included)
Drive Bays
-Accessible
-Hidden
Accessible
3 x 3.5'' or 2.5''(HDD tray)
Hidden
8 x 2.5'' or 4 x 3.5" (HDD Bracket)

Expansion Slots
8 + 2
Motherboards
6.7" x 6.7" (Mini ITX), 9.6" x 9.6" (Micro ATX), 12" x 9.6" (ATX), 12" x 13" (E-ATX)
I/O Port
USB 3.0 x 2, USB 2.0 x 2, HD Audio x 1
PSU
Standard PS2 PSU (optional)
Fan Support
Front:
3 x 120mm, 3x 140mm, 2 x 200mm
Rear:
1 x 120mm
Right Side(In front of M/B Tray):
3 x 120mm, 3 x 140mm
Bottom:
1 x 120mm, 1 x 140mm

Radiator Support
Front: 1 x 360mm , 1 x 280mm
Rear: 1 x 120mm
Right Side(In front of M/B Tray): 1 x 360mm, 1 x 420mm

Clearance
CPU cooler height limitation: 180mm
PSU length limitation:220mm
VGA length limitation: 410mm (Without Front Fan)
Vertical VGA width limitation: 3 Expansion Slot width (60mm)
User Manual
File Name
Description
Size
Version
Release Date