An ITX based chassis with a 200mm fan showcases either for superior liquid cooling or superb airflow

Thermaltake Suppressor F1 Mini ITX Chassis
The new Suppressor F1 is an ITX based chassis with a 200mm fan in the brushed front panel. Smart interchangeable side panels allow users to flip it accordingly to showcase either for superior liquid cooling or superb airflow, which allows you to make your own personal setup, having a really powerful mini system.
Tt LCS Certified
Tt LCS Certified is a Thermaltake exclusive certification applied to only products that pass the design and hardcore enthusiasts standards that a true LCS chassis should be held to. The Tt LCS certification was created so that we at Thermaltake can designate to all power users which chassis have been tested to be best compatible with extreme liquid cooling configurations to ensure you get the best performance from the best features and fitment.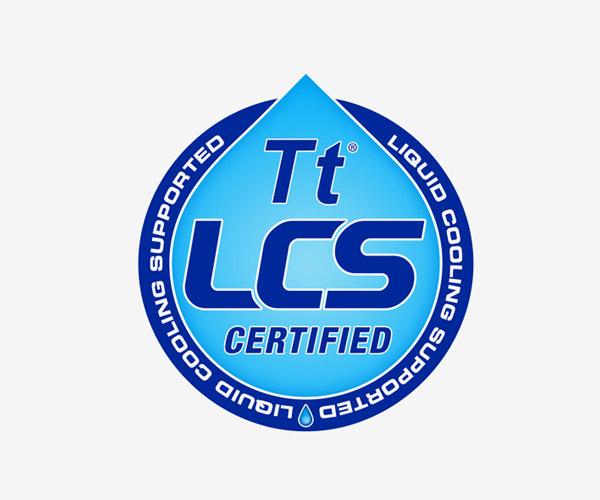 Chamber Design
Suppressor F1 has divided into two main chambers: the upper chamber is made for cooling performance and efficiency, and the lower chamber is made for PSU and cable management. With the aid of the removable 2.5"/3.5" drive device racks, users can enjoy to the freedom of gain the maximum interior space for advance cooling performance or liquid system build.

Outstanding Ventilation
With a promising cooling ability, Suppressor F1 has various mounting points to supports all types of cooling systems that includes DIY/AIO liquid cooling systems and air cooling units. A large 200mm fan is preinstalled in the front, along with two optional 80mm turbo fans at the rear, guarantee to hold up any type of gaming system.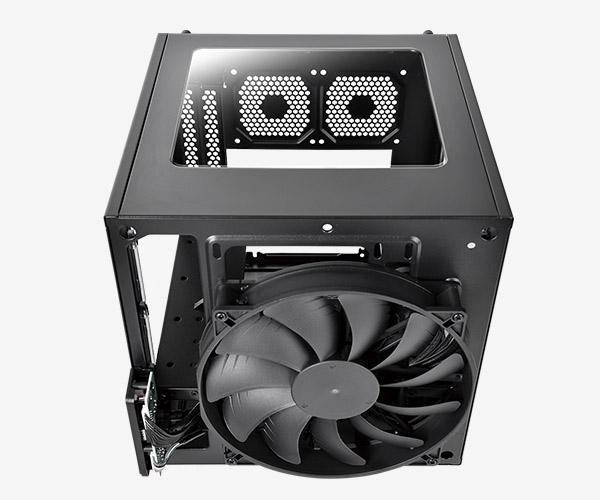 Interchangeable Side Panel
Symmetrical panels allow users to build the system with personality. Play around the panels accordingly for either the best viewing presentation or cooling performance. Two magnetic side filters are removable, users can freely make adjustment. Also, a removable PSU dust filter and adjustable shockproof rubbers is built with the bottom panel of the chassis to prolong the PSU usage.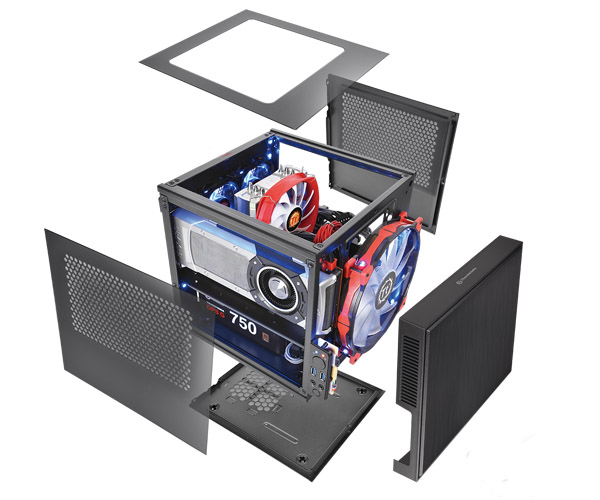 Handy I/O Ports
Design with convenience and cleanness in mind, Suppressor F1 has built in dual USB 3.0 and HD audio connectors together with the Power and Reset Button on the side of front panel, which not only keep the panel clean and simple, it also grants a direct and easy access for external devices.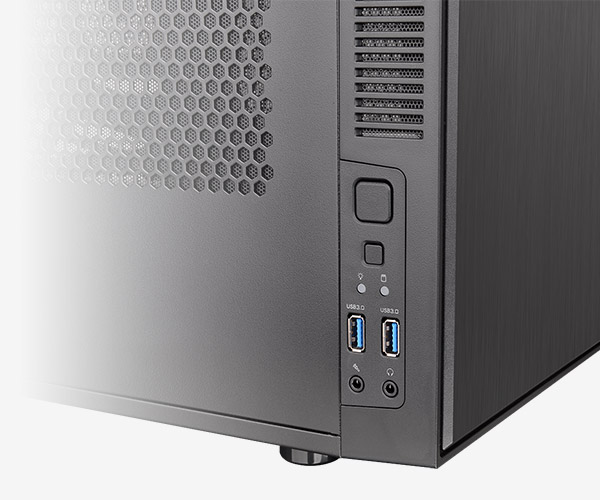 Great Expansion in Compact Size
Suppressor F1 is designed with high-end gaming system compatibility, gamers can easily install up to 4 data storage devices with the modular drive racks, a dual expansion slot VGA with the length up to 255mm, a tower CPU cooler with height up to 140mm, together with a high wattage PSU of length up to 180mm, and still offers a 80mm cable management space.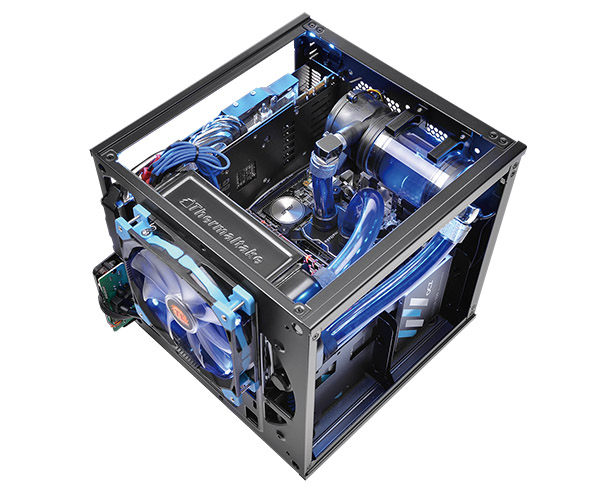 Suppressor F1 Radiator Supporting List
Radiator Compatibility List
120
mm
140
mm
Front
*
*
Rear
Water 3.0 Compatibility List
Performer
Pro
Front
*
*
Rear
*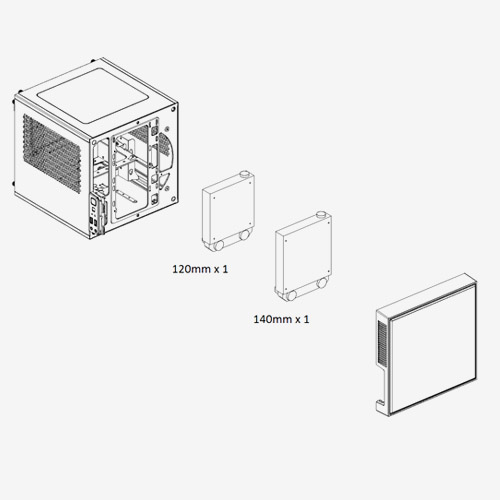 Suppressor F1 Fan Supporting List
Fan Compatibility List
80mm
120mm
140mm
200mm
Front
-
1
1
1
Rear
2
-
-
-
Thermaltake Compatible Fan
80mm
120mm
140mm
200mm
Pure Fan Series
*
*
*
*
Luna Fan Series
*
*
*
*
Riing Fan Series
-
*
*
-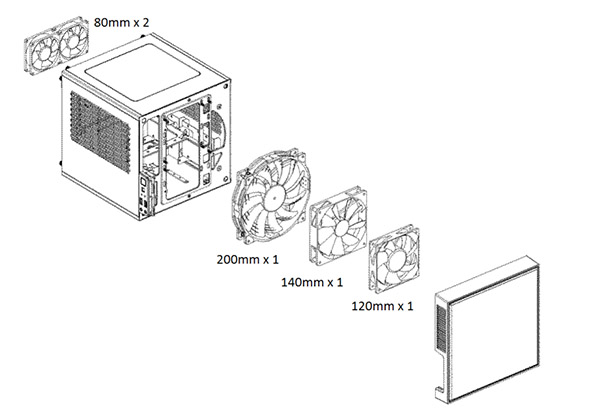 More Information
P/N
CA-1E6-00S1WN-00
Series
Suppressor
Model
Suppressor F1
Case Type
Mini Case
Dimension (H x W x D)
276 x 260 x 319 m (10.9 x 10.2 x 12.6 inch)
Net Weight
3.2 kg / 7.1 lb
Side Panel
Transparent Window (Interchangeable)
Color
Exterior & Interior : Black
Material
SPCC
Cooling System
Front (intake) :

200 x 200 x 30 mm fan (800rpm, 13dBA)
Drive Bays
-Accessible
-Hidden
-Hidden : 2 x 3.5'' , 2 x 2.5''
Expansion Slots
2
Motherboards
6.7" x 6.7" (Mini ITX)
I/O Port
USB 3.0 x 2, HD Audio x 1
PSU
Standard PS2 PSU (optional)
Fan Support
Front:

1 x 120mm or

1 x 140mm or

1 x 200mm

Rear:

2 x 80mm
Radiator Support
Front:
1 x 120mm or
1 x 140mm

Clearance
CPU cooler height limitation:

140mm

VGA length limitation:

255mm (Inner chassis)

285mm (Outer chassis)

PSU length limitation:

200mm
User Manual
File Name
Description
Size
Version
Release Date