Thermaltake Releases World's First AI Voice Controlled Digital Power Supply
New AI Voice Control Function for DPS G Mobile APP
Best for Mining & Gaming

Taipei, Taiwan-February 6th, 2018
-
Thermaltake
has infused Artificial Intelligence (AI) into its Smart Power Management (SPM) system and unveiled the new '
AI
Voice Control
' feature to enhance the DPS G Mobile APP, making it easier for mining and PC gaming enthusiasts to control and custom design their ultimate powerful PC system. The 'AI Voice Control' function is currently only featured in the
Toughpower iRGB PLUS Titanium/Platinum digital power supply lineups
for iOS, and the Android version will be coming soon. Via mobile phone, users can access 'Voice Control' to easily turn the power supply on/off; change light mode, color, brightness; and control the speed. In addition, the DPS G Mobile APP provides access to the
PSU's key parameters
: including the historical efficiency, fan speed, wattage, voltage, temperature, total usage time/kWh/electricity cost, and the CPU/VGA's historical temperature. It also gives users
control over the RGB fan lighting mode
,
PC off remote control
, and
real-time alerts covering major PSU abnormalities
such as fan malfunction; like overheating (above 140℉/60℃) or abnormal voltage level (over/under 5% of normal level) conditions. Best yet, it is fully
TT RGB Plus Sync compatible
, meaning users will be able to sync all RGB colors seamlessly to all Thermaltake TT RGB Plus-compatible product lines for even greater color coordination.
What is Smart Power Management (SPM)?
Smart Power Management (SPM) is a cloud-based software that seamlessly integrates three intelligent platforms – DPS G PC APP 3.0, DPS G Smart Power Management Cloud 1.0 and DPS G Mobile APP 1.0 – and compiles key statistics about your PC into detailed charts and breakdowns for your instant PC status view and management. With easy access to SPM through your PC or mobile devices, whether you are outside or indoors, enjoy taking full control of your build anytime, anywhere!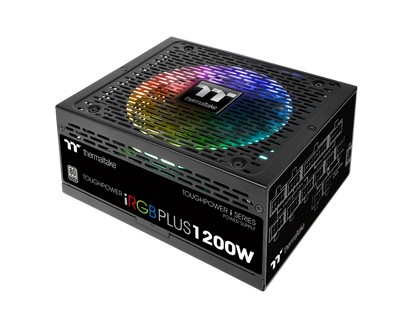 Features of the DPS G Mobile APP:
TT AI Voice Control
Talking to DPS G Mobile App is an easier, faster way to set lights for RGB fan of your power supply. You can ask it to turn the lights on or off, switch lights modes, dim the lights, change light colors, or adjust lights speeds.
PSU Status Reviewing
The historical data of your PSU efficiency, fan speed, wattage, voltage, temperature, total usage time/kWh/electricity cost are displayed on your DPS G Mobile APP to help you understand your power consumption.
CPU/VGA Status Reviewing
Review the historical key parameters of your CPU/VGA, including temperature, voltage, ampere, and wattage on your smart device.
Intuitive RGB Fan Control
Allows for the control of 12 single, addressable LEDs plus seven lighting modes (Full lighted, Flow, RGB Spectrum, Ripple, Blink, Pulse and Wave). Control your RGB LED fan lighting anytime, anywhere you want.
PC Off Remote Control
Allows users for turning off the PC remotely when they receive the warning message or scheduling their PC to shutdown at any time they want, all through their mobile device.
Warning Alert
Real-time warning alert pops up on your smart phone when major PSU abnormalities such as fan malfunction, overheating (over 140℉/60℃) or abnormal voltage level (over/under 5% of normal level) conditions occur.
Schedule Shutdown
Save PC energy and electricity cost by scheduling your PC to shutdown at any time you want through DPS G Mobile APP.
For more details on the Thermaltake DPS G Mobile APP please visit:
https://dps.thermaltake.com/tc/feed/mobile