A cube case that supports up to E-ATX, offering an endless stackable and expandable cooling solution while allowing externally-modular upgrades for enthusiasts to create dual systems.

Thermaltake Core X9 Snow Edition
The Core X9 Snow is an E-ATX cube case offering endless stackable capacity and expandability for enthusiasts to create massive liquid cooling systems, utilize as a file server as well as accommodate dual systems. Users can customize the chassis for the best viewing presentation with an interchangeable window and I/O panel design. The Core X9 Snow delivers outstanding cooling performance with compatibility for extensive DIY/AIO LCS and overclocking components, further enhancing the reputation that the air-cooling units of this series has become renowned for. It is guaranteed to be an immensely powerful system!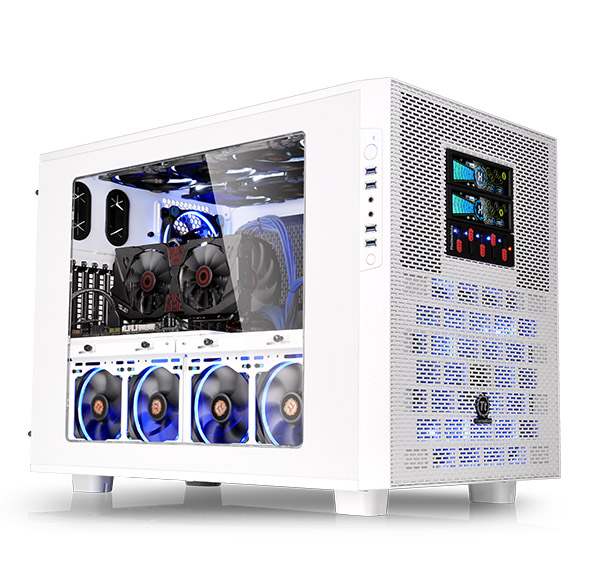 Tt LCS Certified Quick Look

Thermaltake Core X Series Commercial Ads
Stackable for Enthusiasts
With its endless stacking design, the Core X9 Snow Edition is in a class above the rest. Virtually limitless utility is possible; it offers an expandable system allowing enthusiasts to incorporate externally-modular upgrades. Stacked together, the chassis opens up space to expand the liquid cooling system, the storage solutions, or even create dual systems, thereby enabling a dedicated top/bottom set-up for pure cooling. When stacked, the maximum radiator length supported is 600mm on the front side.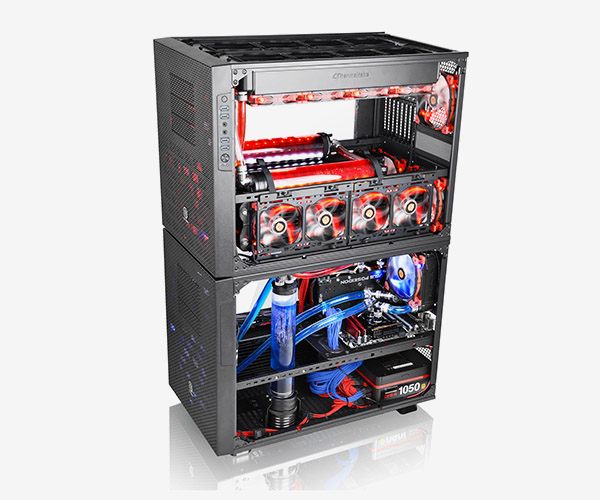 Remarkable Expansion
Designed for high-end gaming system compatibility, the Core X9 Snow Edition's modular drive racks allow gamers to easily install up to six data storage devices, a dual expansion slot VGA of up to 590mm in length, and a tower CPU cooler as high as 250mm. Even with a high-wattage PSU stretching to 200mm in length, it still leaves plenty of space for cable management. Moreover, two 480mm radiators can be installed on top of the chassis, delivering superior cooling performance.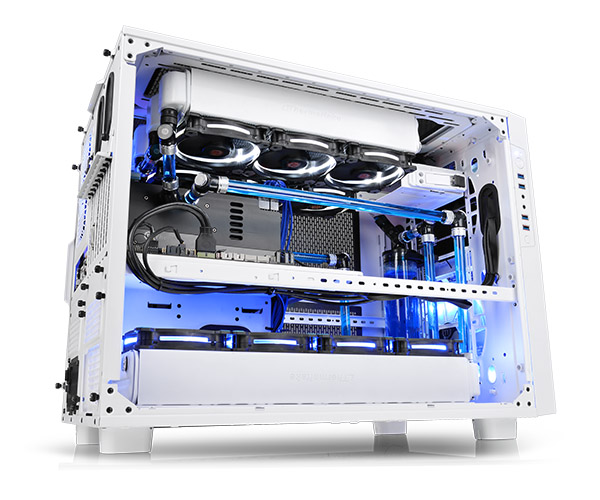 Excellent Ventilation
The Core X9 Snow Edition's unparalleled cooling ability offers fan brackets with various mounting points to support any type of gaming system that can be accommodated, including DIY/AIO liquid-cooling systems and air-cooling units. A large 200mm fan is pre-installed on the front side and a rear 120mm fan reassures and guarantees the flow of aeration. The fan brackets can either be adjusted for 120mm, 140mm, or 200mm fans on the top panel, while there is room for 120mm and 140mm fans on the side panel.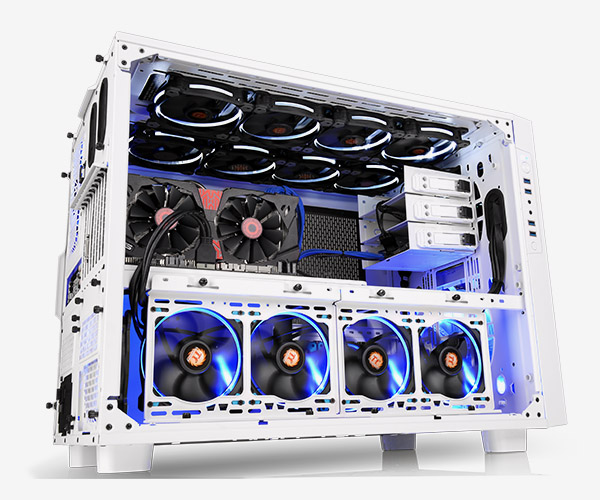 Chambers Concept
Optimized for space management, the Core X9 Snow Edition is divided into two main chambers: the upper chamber is made for cooling performance and better efficiency, while the lower one is made for PSU and drive bays. Thanks to the removable 2.5"/3.5" drive device racks, there is plenty of flexibility to gain the maximum interior space when needed for advanced cooling performance or liquid systems build.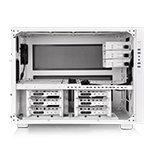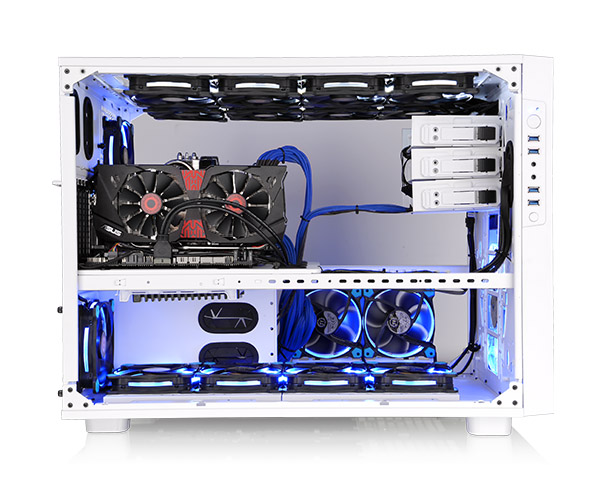 Fully Modular Design
A "3 +9" drive bay concept design for accessory and storage devices makes setting up the best storage solution on the market super easy and flexible. In addition, a customizable 5.25" & 3.5" drive bay feature enables users to freely interchange the 3.5" hard-drive cages to suit their particular needs.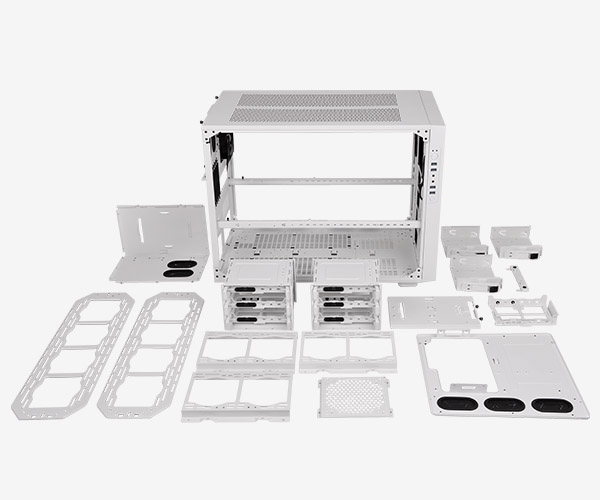 Interchangeable Window and I/O Panel
Users can customize the chassis for the best viewing presentation with an interchangeable window and I/O panel design. Side I/O ports include four USB 3.0.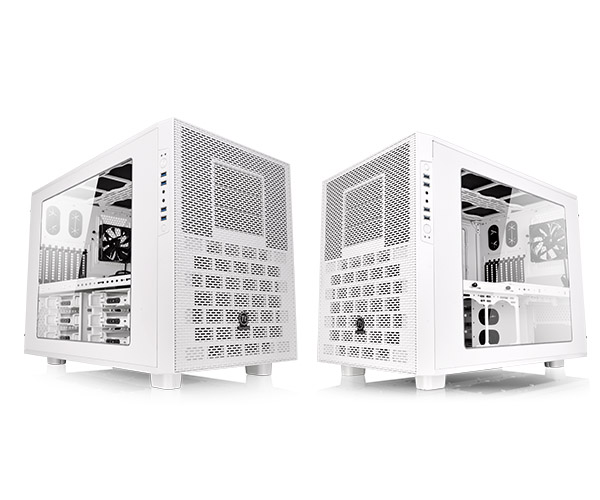 Tt LCS Certified
Tt LCS Certified is a Thermaltake exclusive certification applied to only products that pass the design and hardcore enthusiasts standards that a true LCS chassis should be held to. The Tt LCS certification was created so that we at Thermaltake can designate to all power users which chassis have been tested to be best compatible with extreme liquid cooling configurations to ensure you get the best performance from the best features and fitment.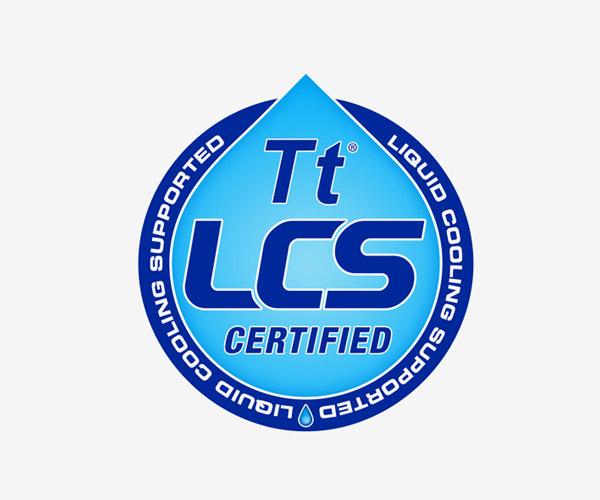 Core X9 Snow Edition Radiator Supporting List
Radiator Compatibility List
120
mm
140
mm
180
mm
240
mm
280
mm
360mm (120mm based)
360mm (180mm based)
420
mm
480
mm
540
mm
Front
*
*
*
*
*
*
*
*
*
*
Top
*
*
*
*
*
*
*
*
*
Rear
*
*
Bottom
*
*
*
*
*
*
*
Side (L/R)
*
*
*
*
*
*
*
Water 3.0 Compatibility List
Ultimate
Extreme/
Extreme S
Pro
Performer/
Performer C
Front
Top
*
*
*
*
Rear
*
*
*
Bottom
Side (L/R)
*
*
*
*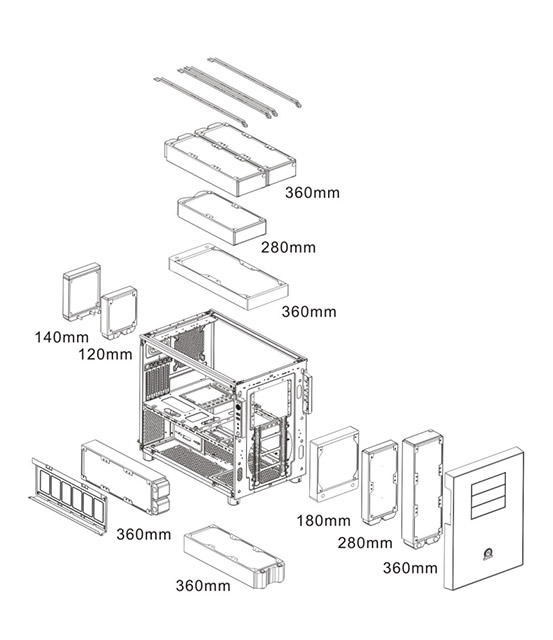 Core X9 Snow Edition Fan Supporting List
Fan Compatibility List
120mm
140mm
200mm
Front
3
2
2
Top
8
6
2
Rear
2
2
-
Bottom
6
-
-
Side (L/R)
4
3
-
Thermaltake Compatible Fan
120mm
140mm
200mm
Pure Fan Series
*
*
*
Luna Fan Series
*
*
*
Odin Fan Series
*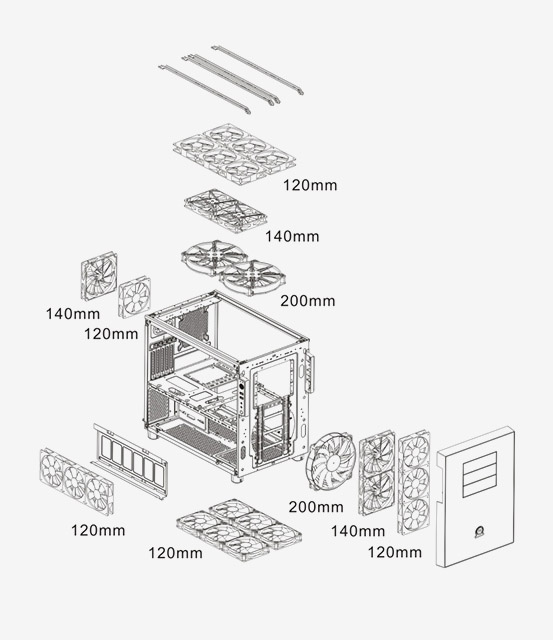 Core X Series Comparison Chart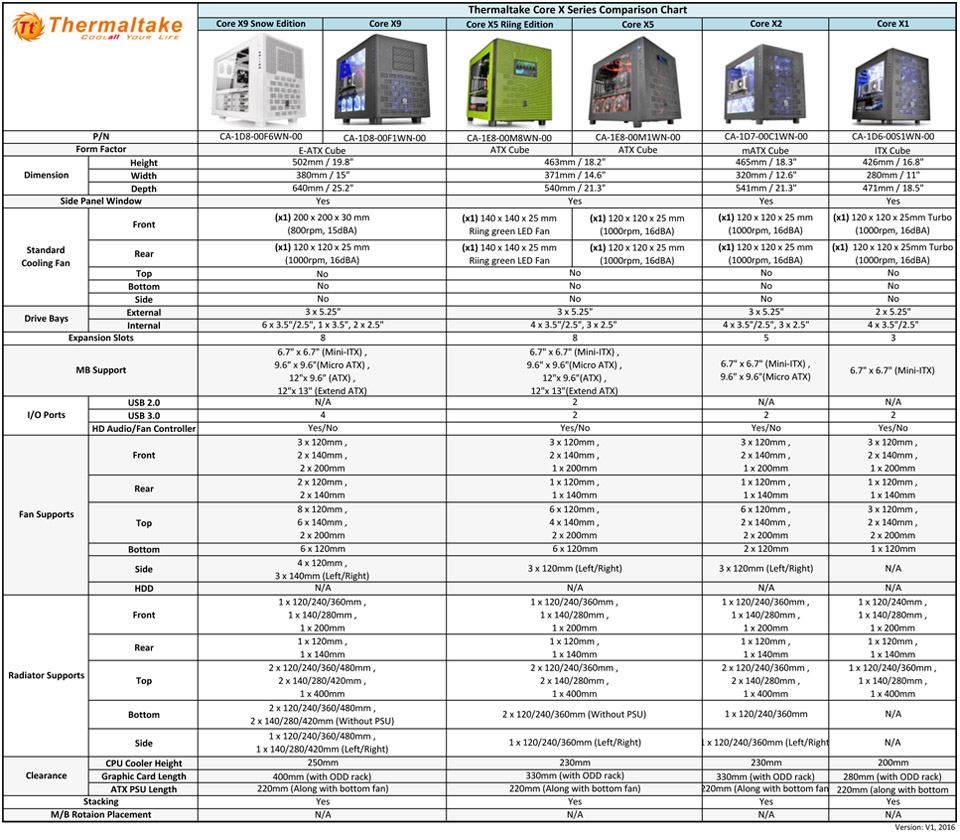 More Information
P/N
CA-1D8-00F6WN-00
Series
Core
Model
Core X9 Snow Edition
Case Type
E-ATX Cube Case

Dimension (H x W x D)
502 x 380 x 640 mm
(19.8 x 15 x 25.2 inch)

Net Weight
17 kg / 37.5 lb

Side Panel
Transparent Window

Color
Exterior & Interior : White

Material
SPCC
Cooling System
Front (intake) :
200 x 200 x 30 mm fan (800rpm, 13dBA)
Rear (exhaust) :
120 x 120 x 25 mm Turbo fan (1000rpm, 16dBA)
Drive Bays
-Accessible
-Hidden
3 x 5.25''
-Accessible : 6 x 3.5'' or 2.5'' (HDD Cage)
-Hidden : 1 x 3.5'', 2 x 2.5'' (M/B Tray)
Expansion Slots
8
Motherboards
6.7" x 6.7" (Mini ITX), 9.6" x 9.6" (Micro ATX), 12" x 9.6" (ATX), 12" x 13" (Extend ATX)

LCS Upgradable
Supports 1/2"、3/8"、1/4" water tube<br />
I/O Port
USB 3.0 x 4, HD Audio x 1

PSU
Standard PS2 PSU (optional)

Fan Support
Front:
3 x 120mm
2 x 140mm
2 x 200mm
Top:
8 x 120mm
6 x 140mm
2 x 200mm
Rear:
2 x 120mm or 2 x 140mm
Bottom:
3 x 120mm
Left / Right Side:
4 x 120mm
3 x 140mm
Radiator Support
Front:
1 x 120mm or 1 x 240mm or 1 x 360mm
1 x 140mm or 1 x 280mm
Top:
2 x 120mm or 2 x 240mm or 2 x 360mm or 2 x 480mm
2 x 140mm or 2 x 280mm or 2 x 420mm
Rear:
1 x 120mm or or 1 x 140mm
Left / Right Side:
1 x 120mm or 1 x 240mm or 1 x 360mm or 1 x 480mm
1 x 140mm or 1 x 280mm or 1 x 420mm
Bottom:
1 x 120mm or 1 x 240mm or 1 x 360mm or 1 x 480mm
1 x 140mm or 1 x 280mm or 1 x 420mm

Clearance
CPU cooler height limitation:
250mm
VGA length limitation:
400mm(with ODD cage)
590mm(without ODD cage)
PSU length limitation:
220mm (With Bottom Fan)